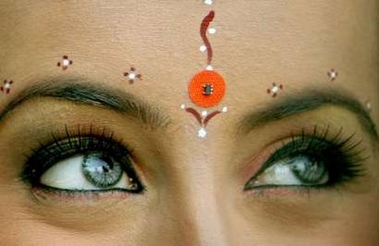 Add a zero to figure one and its value will increase ten times. Likewise, place a bindi (dot) on your forehead after make-up and the charm of the face will enhance ten times. Bindi (also called
bindiya)
is a symbol, not only of beauty but of your
Suhag
too - an indication of a married woman. A married Hindu woman uses various symbols -
sindur,
bangles,
man gal sutra, bichhuye
on the toes and'
alta'
on feet. Likewise, bindi is a symbol of good luck and purity. It has found its way in folk-literature, poetry, sculpture and other forms of arts and literature.
In ancient times
bhasm
(sacred ashes) or
chandan
(sandalwood paste) were used on fore­head by men. Women decorated the forehead with a red dot symbolic of good luck like the rising sun. They used materials varying from
roli, kumkum, sindur.
Today, bindis are available in different colours to match your makeup and dress. Although, traditionally only a round dot is permissible, these days the bindis are available in many shapes, some of them being religious symbols like trident
(trishul),
conch
(shankh),
star
(tara),
lamp
(deepak)
and so on. Today even unmarried women use bindi.
The colour of your dress and the shape of your face should determine the shape, size and colour of the bindi you choose. Some popular motifs available are - round, long, oblong, triangular, crescent moon, a round bindi with small dots surrounding it, etc. You are the best judge to decide what suits you. Some tips are, however, given here. A small forehead appears large with an oblong bindi. A broad forehead looks good with a round bindi. On a fair complexion, red looks striking whereas on dark complexion pink, orange or sandalwood colour appears prominent Wheatish complexion requires a light red bindi. If the skin is very dark, do not use red, steel grey or chocolate colours. For large eyes, big bindi is suitable, for small eyes a small bindi.
Height and shape of body are also determining factors. For example, a tall woman should use round shaped bindi, a short woman should put on longish-shaped bindi. If you have a brut forehead, place bindi in the middle, but if you have a narrow forehead put it betWeen eyebrows. In summers, light-tinged bindi looks pleasant; in winters and at night bright colours appear prominent. If bindi matches your dress in colours, entire dressing-up acquires a typical beauty. For middle-aged women it is advisable to use deep colours which lend gravity and soberness to their personality.
Bindi can be in liquid or cream form. Powder bindi is difficult to use and requires cream vaseline as base. Glass, lac or plastic bindis can be stuck with a little spit. Some women make it a point to match their bindi with their dress, irrespective of the fact whether they are going to a wedding, a festival, or a party. But, this is an erroneous attitude. Because instead of heightening their beauty, a wrong decision can make you ridiculous and uncultured. So, you have to be choosy and wise in your choice of bindi. A bindi is much more than a mere dot on the forehead. It can make or mar your charm.
Source